Hey Knative Folks! how was your week? Productive? Full of Cloud-Native awesomeness!?
This week has been crazy for me, it took me quite a while to understand what was going on with the KubeCon announcements, I've posted a blog post based on some hacking last week and I got a lot of feedback back which is awesome!
Before jumping into the blog post sections, this week I will push for this "good-first-issue" on the Knative Functions
This is an initiative where the more people involved in building this the better the results will be. There is a conversation going on in the issue already, so feel free to jump in, drop us a message there and let's organize the collaboration. I am a firm believer that by just the creation of the workshop material will provide a lot of valuable feedback, probably resulting in a set of "good-first-issues" that you can also get involved in solving.
KubeCon Announcements
Ok this is a bit of some personal news, but this week I got two emails for the KubeCon proposals. One Accepted and another Waitlisted, that on its own is a great result for me. I am passionate about talking about Knative at KubeCon, but this time it was different.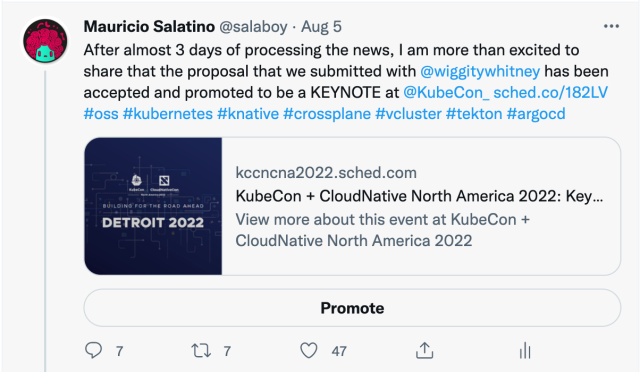 For the proposal that we submitted with Whitney Lee was promoted to be a KEYNOTE 🔥! I am still in shock as I didn't quite understood what that meant in practical terms. To my surprise, it means that: Big Stage, Walk-on Song selection and a 15 mins slot to address the entire CNCF community!! 🤯🤯🤯🤯🤯🤯🤯🤯🤯🤯
You can find the session description here: https://sched.co/182LV
I am also listed in the Knative Maintainers Track (with Lance, Naina and Evan) , so I am hoping to meet all the Knative Communtiy that couldn't make it to Valencia.
Hopefully we get more news about the session that is Waitlisted soon, for now we have a KEYNOTE to prepare.
Knative Meetup: Knative and Vcluster
I've mentioned this last week, now the video is up:
https://www.youtube.com/watch?v=EY9RcZUZqBU
Related to VCluster, this week I've published a blog post titled Building Platforms on top of K8s: VCluster and Crossplane which I am really looking forward to extend with Knative and the Knative VCluster plugin presented by Ishan in the meetup. If you are interested to help me out with that do get in touch.